Hope All Is Well With You
Using a secret code so as to be unintelligible to unauthorized parties.
All the impressions which are made on us by Nature are designed to exercise our soul during its terms of penitence, to prompt us towards the eternal truths shown beneath a veil, and to lead us to recover what we have lost.
Louis Claude de Saint-Martin

Here is an example of my art.

https://steemit.com/painting/@encryptionbanker/eye-acrylic-on-primed-artist-board-14×18-inches
Cyrpto.saint Acrylic and markers on canvas board. Cyrpto currency accepted for art. DM for more information. https://steemit.com/art/@encryptionbanker/cyrpto-saint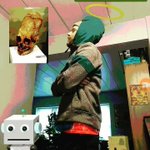 Terms of Service
Privacy Policy
Contact Us
© Coinbase | Commerce