Hope All Is Well With You
Using a secret code so as to be unintelligible to unauthorized parties.
All the impressions which are made on us by Nature are designed to exercise our soul during its terms of penitence, to prompt us towards the eternal truths shown beneath a veil, and to lead us to recover what we have lost.
Louis Claude de Saint-Martin

Here is an example of my art.

https://steemit.com/painting/@encryptionbanker/eye-acrylic-on-primed-artist-board-14×18-inches
For a limited time,
Send the equivalent of 250 USD in cyrpto I'll paint in my style any image on a 12 x 16 canvas.
Any image you want I will redo it then paint it to a 12 x 16 canvas in acrylic and have it in the mail to you within a week and a half. When you click the payment button your email is required before you donate, I will send you a email asking for the image you want painted and where you want me to mail it to and when I will have it to you by. I look forward to sending you art.
Terms of Service
Privacy Policy
Contact Us
© Coinbase | Commerce
Cyrpto.saint Acrylic and markers on canvas board. Cyrpto currency accepted for art. DM for more information. https://steemit.com/art/@encryptionbanker/cyrpto-saint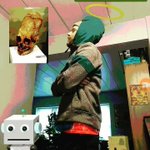 Terms of Service
Privacy Policy
Contact Us
© Coinbase | Commerce